The Nature of Japan
A Country Blessed With Nature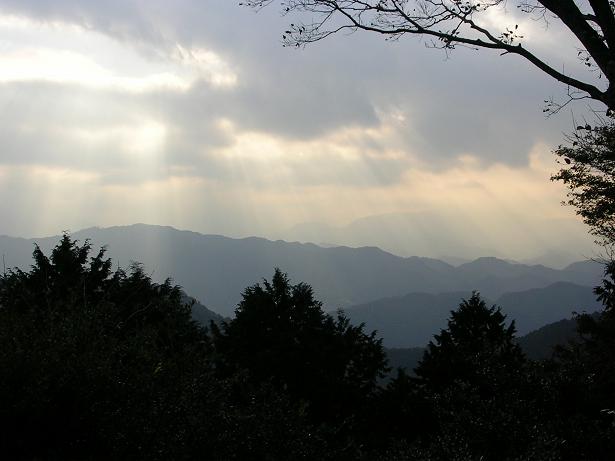 Since Japan is an archipelago surrounded by sea, with more than 80 percent of her land covered with forested mountain regions, it can be said that Japan is a country full of nature. If you just step out of the metropolitan areas such as Tokyo or Osaka, forests and mountains and hills and streams will greet you with refreshing air. You can also enjoy a wide variety of wild life peculiar to the region, from the subarctic of Hokkaido to the semitropical of Okinawa, for the Japanese archipelago lies lengthwise from north to south.
Mountains
Because of her geographical features there are many mountains in Japan, ranging from mountains higher than 10,000 feet, to more familiar heights of about 1,500 to 2,000 feet. The highest among all is the famous Mt.Fuji ( 12,385 feet high ) which is commonly known in Japan as Fujisan. Fujisan is located on the border of Shizuoka and Yamanashi Prefecture, boasting its unique appearance which has become famous to the world as a symbol of Japan, through numerous pictures, paintings and poems. ( It's sad truth, that the reasons for such famous Fujisan still not being named to the UNESCO list of world heritage, as of Jan. 2006, are its rubbish-strewn scenery and not-so-clean laterine... . Of course, it is needless to say that various kinds of approaches and efforts are now being made, to make such situations better.)
The best season for mountain climbing, trekking and hiking in Japan, is from spring to fall and many people visit to enjoy the great scenery, fresh air, flora and fauna they usually can't see.
Rivers
According to the number of mountains, there are also many rivers in Japan too. These abundant source of water known for its cleanliness and fine quality, has been serving as a backbone of Japanese life and culture for a long time, as in rice farming, Sake brewing or Japanese dyeing. Blessed with such fine water, today Japan still remains as one of the few countries, where you can drink water directly from the faucet without any precautions.
Mountain streams are narrow with swift current, but they later get together turning themselves into a more wider river, growing wider and slower as they go, until finally they pour into the sea. The longest river is the Shinano River known in Japan as Shinanogawa ( or also as Chikumagawa ), running 229 miles long from Yatsugatake ( mountain ) in Nagano Prefecture through Niigata Prefecture, pouring into the Japan Sea. Another river famous in Japan is the Shimanto River ( Shimantogawa ), which runs through Kouchi Prefecture, and is loved for its untouched natural beauty.
Though the natural circumstances of Japanese rivers, has been spoiled and changed through flood control and maintenance projects in association with urbanization, there are still many beutiful streams left in the mountains, where anglers crowd to enjoy fishing in late spring.
Lakes
The Biwako, ( Lake Biwa ) in Shiga Prefecture is famous throughout Japan as the largest lake in the country ( 419 sq. miles ), while the bottom of Tazawako, ( Lake Tazawa ) in Akita Prefecture is known as the lowest part of the country, which is 572 feet below sea level.
Many people come to the lakes to enjoy fishing and other attractions during spring and summer holiday seasons, but the ecological circumstances are being changed by exotic species such as black basses, brought in from overseas to increase fishers. The black basses propagated themselves by eating smaller fish that originally lived in the lakes, and now the increasing number of these basses are causing serious ecological problems.
In reaction to this change, various kinds of studies and approaches are made today, to get the lakes back on form and to protect the environment.
Coastlines
For a country of her size, Japan has a very long irregular coastline with many capes and peninsulas, extending over 20,000 miles which is nearly 85 percent ( !! ) of the length around the globe. It ranges in a wide variety from the saw-toothed coastlines edging the country, to the coral reefs in the southwestern islands with beautiful bays, harbors, rocky shores and beaches.
Needless to say, there are a number of great fishing points along the coastline, and quiet bays and coves are good for scuba diving. For surfers and body boarders, beaches near the open sea seem to be their favorite spots.
Usually the sandy beaches are trimmed with dark blue waves, except in Okinawa and the southwestern islands, where the atmosphere is more tropical. In this semi-tropical region, whith long beaches of white sand and gentle waves of emerald green, you can enjoy all kinds of water sports mostly throughout the year, while in the northern parts of the country, spending time on beaches are one of the major attractions only during summer.
Volcanoes
There are many volcanoes in Japan, due to the fact that the country lies on the Pacific "Ring of Fire", and some of them are still active.
The famous ones are the Asosan ( Mt. Aso ) in Kumamoto Prefecture, and the Asamasan ( Mt. Asama ) on the border of Gunnma and Nagano Prefecture. Asosan is an active volcano repeating small eruptions once in every several years, and so is Asamasan which experienced a moderate-sized eruption on September 1st, 2004. The well known Fujisan ( Mt. Fuji ) used to be an active volcano too as recently as 300 years ago, but it has become dormant since the last eruption in 1707. On the other hand, the last volcanic eruption of Miyakejima ( Miyake Island ), an island on the east coast of Tokyo, is still fresh in memory. On August 18th 2000, the volcano erupted causing a pyroclastic flow, forcing the residents to leave the island for safety. ( The residents were able to return to Miyakejima as of February 1st, 2005, relieved from the evacuation of the island's entire population, due to damages caused by the volacanic eruption. )
These are some of the bad effects of volcanoes, which sometimes even threaten the safety of our daily lives, however, it is also true that we are blessed with their by-products, such as the unique landscape and the numerous Onsens ( hot springs ), which are the pleasant side effects of volcanoes.
Hot Springs ( Onsens )
Thanks to the volcanoes, Japan is blessed with many natural hot springs. It is said that there are more than 3000 of them spread all over the country, and every region has its own share.
Most of them have become popular as hot spring resorts, and people enjoy to spend a couple of relaxing days bathing in the onsen ( hot spring ), eating delicious local dishes, staying in Ryokans and hotels.
Onsens ( hot springs ) in Japan, is clearly defined by the Onsen-Hou ( the hot spring law ), but generally it is recognized as "natural springs of hot water containing various kinds of minerals, such as bicarbonate of soda, radon or sulfur". There are many types of Onsens depending on the minerals dissolved in the water, and each of them has different health benefits. This may be the reason why Onsens has been put to medical use in Japan for hundreds of years, e.g. carbonic springs are effective on high blood pressure and arteriosclerosis, sulfur springs for chronic skin diseases, arthritis and joint pain, while chloric springs help to make poor circulation and chronic women's diseases better.
Besides these effects, every Onsen has some sort of healing power that reduce our stress, especially if it's an out door or an open air type, and I think it's because of this relaxing healing power, that Japanese ( including myself why, of course ) actually LOVE Onsens so much, and why I'm writing such a long sentence at length, hoping to share the happiness of enjoying Onsens with more people.